Before I start blogging our day, I'd better do the "butterfly watch – day 2" picture:

If you have a look at the top left of the jar, there's a caterpillar already up there and there are others at the bottom right of the picture. They look bigger than yesterday too. When they travel up to the top, that's when they start the crystallisation stage apparently so I'm glad something is happening! I looked at the jars this morning, all condensation-filled and thought …(well, a rude word!) thinking they'd died so relief that all is okay. D doesn't want to release them when they're butterflies and T wants to, but wants them to stay nearby so…grow buddleia grow!
On with our day, it was D's school
Jubilee party this afternoon, T's school
weren't having one (must be one of the very very few that didn't) so food & clothes prep for D, normal school uniform for T 😔.
This was D trying out her hat before school – very Ladies Day!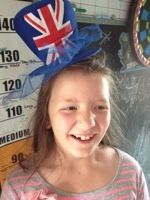 She went in very well, eager to take her outfit (and the crisps!) in.
When I was on the way to pick her up, I passed T's old school where they were releasing hundreds of balloons. Made me wonder just how many red, white & blue balloons have been released into the atmosphere over the past few days..imagine if there was one for every school-age & nursery-age child!
D was late coming out so I went in when the doors opened to wait outside her classroom. She came out, still dressed in her outfit, delighted to see me. She said she had been named "girl of the ball" which was lovely, she couldn't remember who the "boy of the ball" was. Everyone liked her dress and people passing us on the way to get T were commenting how nice it was – what a change from the usual stares when she's upset/anxiety ridden!
Here's her dress: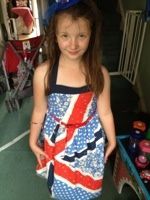 We talked about the party and it sounds like she did enjoy it but preferred to be with her teacher/TA. She said that she got worried when the children went near her and that she held the doors open a lot for the teachers moving the tables back in. One of her IEP targets is to move away from "adult-led" activities, it's been on there for years. It concerned me slightly when she said that she'd preferred being with the staff today, after all she has been in her SN school for over 2 years & in a class of 8, but I guess there was a change of routine and sensory-overload and she needed reassurance.
She's been very relaxed and happy to be at home, playing with her playmobil, singing away. One of the songs was "Tight Fit – The Lion Sleeps Tonight" and before you think "poor child, what music do they play at home?!?" the answer is they sing it in music and no, we don't play it at home!
The other one was this, more appropriate for the Olympics but nice, positive and team-affirming:
"I'd like to be a champion, I'd like to live the dream. I'd like to be the best I can and represent my team".
Definitely don't mind that being sung!
She was very tired after her day, just hope any sensory issues from earlier don't manifest in the middle of the night please!
Thanks for reading, comments and RTs as ever welcome Jx 😘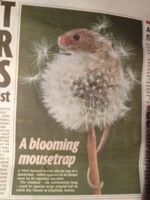 This picture was in one of the newspapers recently, it made me smile, hope it does the same for you!
---
---