Hubbie – aka Mr Bluecrisps – has been feeling quite important today, bless him. He'll be on the phone and then ask if anyone else has liked "his blog", Awww!
D went in well this morning, we decided not to stop at the park "with the naughty swing", probably a good thing!
When we were arriving at school, a TA was leading a girl with cerebral palsy (and uses a wheelchair) with walking down the corridor. Supporting her, standing behind and alongside her, holding on, encouraging her to walk. The smile on the girl's face was amazing, it was lovely to see. D was smiling at her too. They were in the same class when D joined two years ago but in separate classes now. Really really heartwarming to see the progress that she's made and being encouraged to make.
D came out scared at the end of the day, she wouldn't tell her TA what was wrong and only told me when we had said goodbye. It was very much a guessing game in the interim – was it the full buggy? cooler weather? Transport escorts around? – apparently none of those. Because they had come out late, one of the boys in her class that gets too close sometimes was behind her and she was worried by him. The one advantage (if there is one) to her making a fuss is that the ice cream van (which hadn't been there) arrived late so she did get her '99 to occupy her whilst walking. Another SN parent was relieved to see the van too!
We've unpacked her "my butterfly garden" at home. Just as well we did, I assumed (as it said on the website) that you have to send off for your caterpillars, but they were there in the box, in two separate little cups, complete with food. A couple were moving – phew – we're going to take a daily picture, this is today's: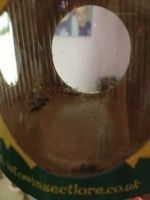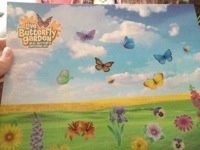 The other picture is a free scene and sticker sheet that came with it, very quickly created and will be taken to school tomorrow.
Speaking of tomorrow, like virtually every other school, they're having a Jubilee party. I hope she enjoys it. Our nominated food to bring is crisps and D has said "I won't eat them on the way to school Mumma because I'd be too full" – bless her! Naturally she wanted me to buy "blue crisps", I hope she shares them..
We decided to get patriotic in the garden, here's our flagpole, felt like I should be humming some sort of sea shanty whilst hoisting it!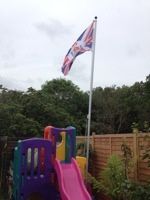 Hope everyone has had a good day, thanks very much for reading, comments/RTs as ever welcomed Jx 😘
---
---