Our wedding anniversary today – 12 years together, 10 years married. I did a post for Hubbie today – Mr Bluecrisps – it was a soppy one but only after writing it, do you realise how much has gone on in the last ten years. I don't know what the next ten will bring but I'm sure we'll cope with the challenges!
D went into school very well this morning, one of the TAs was in the doorway, wearing a wooden bead necklace that another child had made for her. D went in with her, telling her all about the swing episode yesterday – I can imagine she's told everyone today and who was to blame. Surprised my ears didn't catch fire!
She'd been swimming just before end of school so came out full of beans! Rushing at me, nearly bowling me over. She was having to walk, so an ice cream from the van was in order. The man said that she was always happy and I agreed but thought "yes, cos its food" and if I didn't give her the right money and there was people in front of us, it would be a different story and there would be tree-hugging!
She absolutely loves the colouring book I bought her today and she's done quite a bit of very detailed colouring in it: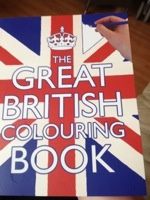 So…a nice day for us, shame it's not half term but we've had a peaceful evening. M&S Eton Mess cheesecake for tea tonight – very nom nom – no picture because it didn't stick around long enough!
Thanks for reading. Comments/RTs as ever welcomed Jx 😘
---
---