With thanks to lovely Lisa for the inspiration for the title!
Hubbie would probably be very pleased at the title actually, he's always telling his customers about the blog and he'll sit there, poised with his phone, ready to read it as soon as I've pressed "publish" – why he doesn't have a sneak preview beforehand I don't know! Bless him!
I can imagine he's reading this with "Mr Blue Sky" going through his brain!
Anyway, today we've been together 12 years and married for 10 years. We married on our second anniversary. In Jersey, on a day as beautiful (but not quite as hot) as today.
Hubbie became on that day a stepfather to C and has proved to be more of a father figure and role model than his birth dad ever was so I'm grateful even if C is going through that *one grunt for yes/no/whatever"'phrase. It took a course of Clomid to have C so I wasn't sure if we'd be blessed with any more children, T and D were very welcomed – if not a lovely surprise, both times!
Hubbie is the brother of one of my friends and ex-work colleagues so joining their family was very familiar! He was wonderful with C from the first moment he met him and at subsequent BBQs and parties was the one that the children flocked to to throw cold water over or play football with.
We've gone through a lot in the last 10 (or 12) years – marriage, house move (6 weeks before D arrived), two home births, D's diagnosis, various family & pet deaths, my attack just over a year ago and my mum's continued ill health but we have each other and our family unit and that what makes us strong.
Hubbie works very hard for us and incredibly protective. I'm his "woman" and he's my man. Before you think that sounds very anti-feminist I'd better add that for all his masculinity he's rubbish at DIY and gardening so that's my role!
Wouldn't be without him. It was a big step for me as a single mum to take those first tentative baby steps and for him, as a confirmed sport-loving bachelor to take on me and C.
Very glad you did though Mr Bluecrisps. Love you, Mrs Bluecrisps 😘😘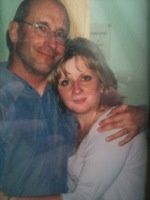 ---
---