Isn't it funny how the sight of something can unexpectedly transport you back in time?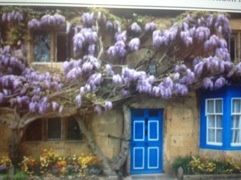 In my case, wisteria. I saw this on the school run this morning, all draped gracefully over the front of someone's house.
Don't know why I hadn't noticed it before but …..whoosh! In a flash, my brain took me back to being a nine year old, the summer before my parents split up.
Our house in Epsom was covered in wisteria. I was taken back to a house where a room had been taken over by furniture that my mum was getting together for her new life. Another room where I used to sit on the sofa and be asked separately by my parents who I wanted to live with, a room where – being nine and not really understanding the implications of any answer – I'd tell each of them that I wanted to live with them.
Another room where I used to hear them arguing and then where I'd hear my mum crying.
In the end my dad was awarded custody and he became a single dad with three young daughters. I only found out why he got custody much later.
How strange, that all that came back from seeing one plant. Makes me wonder if subconsciously we furnish our homes and gardens with bits and pieces that remind us of times passed.
Will I have wisteria in my garden? Not sure at the moment..
---
---