I'll just say it once – GAWD, IT'S BEEN WARM TODAY – seem to go from one extreme to the other within a week, anyway..
D went in brilliantly again this morning, no reluctance, no TA needing to come out..wonderful! It was a sort-of "bounce-bounce I'm here" – bit like Tigger – and then she sat down to start her day. I went off thinking that that dark cloud which descends when she goes in badly can just stay away!!
And then I started wondering "why? What's different about this week?" and it came to me…the School Proms.
Every day this week her class has gone to a performance by another class/a visiting school band. I don't know if it's been morning and afternoon but it's been daily.
The music department is wonderful at her school, the teachers are really enthusiastic (without being annoying) and empathetic, using their skills to get even the most handicapped child to participate, whether it be by a tap on a drum/a press of a key on their speech tool or a nod of the head – wonderful and humbling to watch. The songs at the Proms have been really positive too, songs that the children enjoy singing.
There is a link between autism and music therapy, I'm going to investigate and see if we can incorporate elements into our before and after school routines. It might be something as simple as playing on YouTube her favourite song "here comes the sun" or something else. We can't sing on the way to school as I don't drive so singing along to a CD in a car is out and we draw enough attention with her being pushed along in her SN buggy for us to sing out loud en route! Food for thought…
Back to our day: she was late coming out so I had to go in with all the transport escorts, that unnerved her and she made herself into a little ball in the corridor. I knew why she'd done it (the escorts passing all around her) so we just had to wait until it was calmer before attempting to get her up and outside. She was fine after that.
Settled very happily tonight with one of her books.
I don't how when this happy bubble that we're in will burst – the Proms end tomorrow and next week has some trips and a Jubilee party – but we're enjoying it whilst it's here.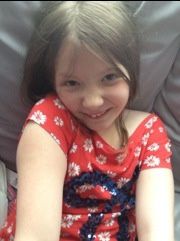 This picture was D on her birthday on Sunday and it's just too cute!!
Hoping our happy bubble stays afloat overnight…comments/RTs as ever welcomed, thanks for reading Jx 😘
---
---