Every night I start to do this and check and double check the date on my phone, I'd be completely lost without my phone. It's my diary; my organiser; my social network tool; my link to emails and my stereo all in one tiny package…oh, and it's a phone too, thanks Mr Jobs😃
Anyway…our day has gone really well!
D had been up drawing at 430am but did settle back down when I asked her too. That's the thing when it's getting light really early and the birds start singing, D is awake! She'd done some ice cream cones and some animals – all full of detail.
She went into school brilliantly this morning. 😃 She'd picked a poppy from the roadside on the way and said she was going to give it to her teacher. When we got to school, she was all excited about handing over the flower, so she bounced in, her teacher wasn't in class so she gave it to her TA instead!
She came out just as happily, all "Mumma" and a run up, nearly bowling me over! We went to get her ice cream cone as she was having to walk (full buggy, gruesome twosome day) and the ice cream man asked her if she was having her "usual", she showed him the ice cream cone she'd made at silly o'clock this morning and he said that deserved an extra flake in her cone! She was delighted and hasn't really stopped talking about it since!
This is her cone picture: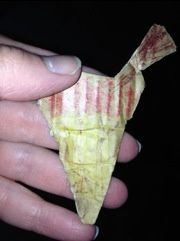 It's been so warm that there have been a few episodes but nothing that wasn't sorted out really quickly, certainly nothing that I'd call major.
Whilst T and D were at school, I went and brought them each a HUGE red angry bird with some birthday money, this is T with his, they're both delighted with them: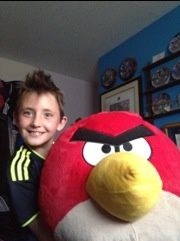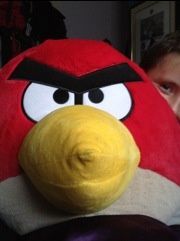 The second one is very much "spot the T" and yes, they are that big!
So, this week's going really well, of course it could all change tomorrow/in the next hour/in the next minute – such is the unpredictability of autism. Speaking of which, another tweeter send me this today, I love it … cos I do!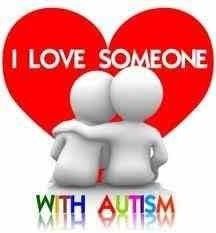 Thanks for reading, comments/RTs as ever welcomed, all helping to spread autism awareness Jx 😘
---
---