The day after D's birthday started early, very early…430am in fact. I think it was the birds tweeting and chirping that woke her up – darn suburbia!
She wanted to "make a book" at this very unearthly hour but settled for snuggles & reading etc.
She had some reluctance going into class this morning but her lovely TA persuaded her in with lots of birthday chat, with D saying "but my birthday was yesterday, not today!" – precise as ever!
She came out really pleased to see me, they've been doing lots of practising for their School Proms tomorrow morning. Not sure of the format of their performance (last year's was detailed in my "Here Comes The Sun …and I don't mean the paper" post). Can't wait to see it tomorrow morning and then we're seeing the school OT, I'm hoping she'll be able to give me some calming anxieties exercises for D as well as chatting to her about our possible dyspraxia concerns.
Because of her early start, D was very tired after school and we've had a few "episodes" and lots of door slamming. She's been very easily affected by anything T/Hubbie did or said.
Hopefully she'll have a longer night's sleep tonight – exciting day tomorrow!
One bit of good news today, the GP has agreed to refer her to the Eye Clinic at the hospital without needing to see her – as a result of a telephone conversation about her rather fraught eye test on Friday. Don't know when…another waiting list but at least things are happening.
Hope everyone's had a good day, comments/RTs as ever welcomed. Jx 😘
Tonight's picture is the trophy T's team won at the football tournament on Saturday (which they won), because I'm
very proud of him and Hubbie as Team Coach, apparently they'll be in our local paper this week.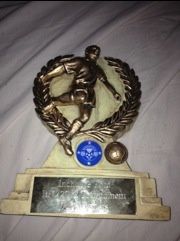 ---
---