A very sluggish start to the day. The men folk were very tired after watching the Champions League Final last night and competing in the football tournament yesterday and D had been awake in the early hours, upset because her colour-changing sensory night light had somehow turned itself off. I did wonder if she'd remember it was her birthday when she was awake in the early hours, luckily she did a bit later!!
She's had a lovely day, delighted with her presents (phew!). These are some of her favourites:
Angry Birds Rio toys: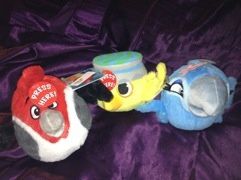 My Little Pony Express Train: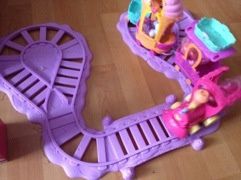 She has absolutely loved this! As soon as she had opened the present, she started signing the song from the advert and has been singing it continuously (word perfect) all the time she's been playing with it – which has been a lot!
And her main present: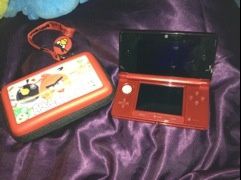 Nintendo 3ds in red, something that she's wanted ever since T got one for his birthday. I've turned the 3d effect on it right down and she really enjoyed making her own Mii's and sending them to T's console.
The My Little Pony train has definitely been the favourite though.
It's "spot the D" time: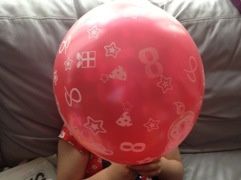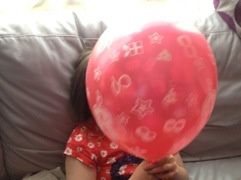 The camera angle made the balloon look massive! Naturally in red, her favourite colour! Here she is: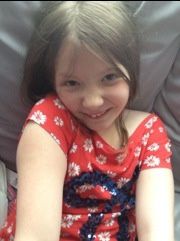 The pi̱ata was duly bashed! And a tip: do not put loose Maltesers in it, the darn things go everywhere once the pi̱ata has broken! She enjoyed trying to hit it and let everyone else have a go too Рjust the one time, but well done D!
Here she is blowing out her candles: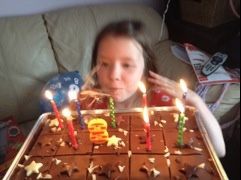 Her day has ended with lots of giggles and bubble machine bubbles.
Perfect birthday for my lovely 8 year old!
Thanks for all her birthday wishes, she loved reading all the mentions and thanks for reading this Jx 😘
---
---