Please take a look at the poem I posted earlier if you haven't already seen it, it's beautiful.
If ever a day has been a see-saw day, it has been today! Imagine it, you're quite happily see-sawing away and then that big old Autism comes and sits behind you and sends you crashing to the ground, hard.
Today started off really well *droll laugh*, we only had T to take to school as D had an eye test. She'd been to the opticians before, she'd had an eye test there before, she remembered it…it all should have gone smoothly, umm no.
She took some persuading to get through the door – if she hadn't been in her buggy, we wouldn't have got in there at all! Were a few minutes early so we looked at the children's glasses – Garfield, Hello Kitty, Little Misses – all sorts. All seemed to be ok until they were ready for us. D tried to bolt out of the opticians. Five minutes or so of persuasion and I got her into the room. Then she wouldn't sit in the chair. Then she wouldn't have the glasses on. The optician by now was getting frustrated and was saying that as she wasn't co-operating that we should book again, for a double appointment. Eventually she agreed to sit up and the test started. However because she wasn't sitting properly/didn't want to read some of the letters/maybe was taking a bit too long, the optician decided that we had to be referred to the eye clinic via our GP – not again, I'm thinking. Although I appreciate it must have been frustrating for him, they knew that D has autism – I specifically requested a non busy time and reiterated the autism to them -and a few allowances could have been made – a different approach maybe/making the test more fun, I don't know. He did say that there definitely seemed to be a weakness in one of her eyes but it will be a question of the GP deciding if she can refer without seeing D I presume! Phone conversation should be happening Monday.
I left the opticians feeling really quite stressed and D was glad to be out of there too. I didn't take her back to
school, it was easier on both of us to keep her off!
She's very excited about her birthday, we chose lots of goodies for her Piñata at the shops and quite telling, when she was talking about who she wanted to have over at half term for a little (late) party, she didn't name anyone in her class. There is a parallel class and she picked out three people from that, saying that "if X gets too excited, you need to get him to put his hands on his head and count to ten, because that's what school does" – bless her!
Perversely she's been in a really good mood this afternoon – no meltdowns, no upsets!
It really has been a see-saw of a day!
Tonight's picture is a little paperweight that I have, it's very appropriate for a SN parent!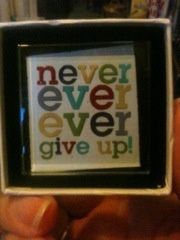 Comments/RTs as ever welcomed, thanks for reading Jx 😘
---
---