Ho humm… Not a brilliant day.
D was absolutely fine until we got into school and there were children with drums outside their classroom, banging on them. This sudden noise was too much for her and she ran off. One TA came out, followed by another and we were all walking back to her classroom, when her teacher came out, took her hand from mine and took her off to class. I didn't get a "how was she?" or "say goodbye to Mum" – left feeling very small and very demoralised. Which will be evident in my "That…just that" post from earlier today.
D came out looking very tired and very pleased to see me, she almost bowled me over! We went to get her an ice-cream from the van, I normally give her the £2 and she'll ask and pay but because I had a £5 note – and this was different – she wouldn't and there was a bit of tree-hugging whilst I got it. The ice cream man was really surprised, D is a regular on a Wednesday/Thursday.
I wanted to explain to her why I hadn't said goodbye this morning and she did get quite upset, which made me feel terrible (and also cross at the lack of empathy).
She's been very up and down as a result, lashing out at her brother at the slightest thing.
She's settled now, having had her melatonin and under her weighed blanket so everything crossed for a better day tomorrow.
Thanks for reading, comments/RTs as ever welcomed – all helping to spread awareness of autism – Jx 😘
Tonight's picture is an image I found, I love it: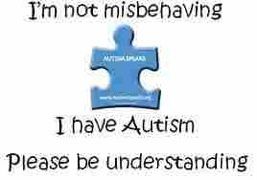 ---
---