If you've seen my earlier post today "Autism – you are not my buddy today", you'll know that this morning did not go well. If you haven't seen it, please have a read and RT to illustrate how important autism awareness is. I was really touched by every empathising comment and the RTs – thank you. 😘
I spent much of the day trying to keep occupied so that the morning's events didn't dwell too heavily, sometimes that was impossible!
A very tired, pale looking but happy-to-see-me D came out at the end of school. Her TA said she'd been quite agitated until Bunny was back from
the laundry room. Just as well she said that because there was nothing in the home-school diary – on the one day I really needed there to be!
D was fine until another girl in her class came out as well and called her name, D then bolted, fortunately stopping before she reached the main road. Big bear hugs administered and she told me that this other girl had pinched her today. She did say she had told her TA and that the girl had blamed other people. D then said "I think that means she was lying, Mumma". I'm so proud of D for telling someone what happened, she's normally afraid to.
She was very up and down at home – a mixture of tiredness and emotions I guess.
She got very angry with her Dad just before bathtime, tried to punch him and started to scratch herself, because he asked her to get in the bath.
Once in, we had a chat and she couldn't remember being angry with her Dad nor anything about this morning, apart from Bunny being returned. I wasn't going to remind her, it's easier to let it lie. Tomorrow is another day.
Tonight's picture is of Bunny, good old Bunny. She's always there for D, waiting to be scooped up and taken wherever D goes: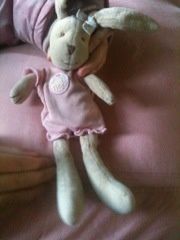 Thanks for reading, comments/RTs as ever welcomed Jx 😘
---
---