Please take a look at my "What's in a number?" post if you haven't already, I was planning a completely different post on Numbers but this one appeared instead!
Our day started off with definite Monday morning blues and reluctance with a capital R, she did go in with the help of her TA.
I came home to find the medical appointment we'd been waiting for since January for D and that had been scheduled for August, has now been moved to end of September!! So much for an 18 week waiting list!
She came out of school very well, her teacher said that she tends to squint when staring at the whiteboard. It's something she sometimes does at work
too, when watching TV. I think it's involuntary but I've booked her an eye test for this week anyway.
I did ask her to read various things this evening and her eyesight seems fine so we'll see. We did have a little "try and raise your eyebrows or wiggle your nose" which she still seems unable to
do, OT appointment next week so I'll ask about that then.
So, not a great start to the day but it got better, hope everyone had a good day.
Comments/RTs as ever welcomed, thanks for reading Jx 😘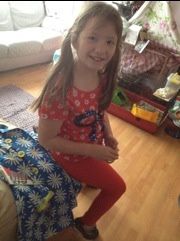 ---
---