Lots of reluctance around going into school today for D, not helped by the fact that we had T's school run to contend with first. Decided we'd stop off at the park along the way and she could let some anxieties out on the swing: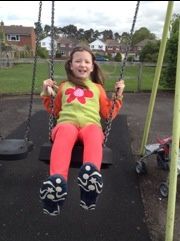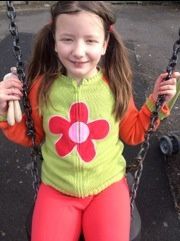 It worked to some extent but the nearer we got to school, the more agitated she became. Eventually she said:
"Mumma, I want to have school at home"
Me: "how would we do that?"
D: "we get some worksheets and pencils and you teach me"
We've never discussed home-schooling with her, so that little conversation took me by surprise. As much as I'd love to have her at home all day, the social element of school is very important and life is always going to be (well, it is!) about sometimes not doing things you're comfortable with – new situations/difficult people etc.
As then anticipated by that conversation and her general anxiety-filled mood, she did not go into class well. It took two TAs to get her in and a lot of persuasion.
I went off thinking a lot about what she'd said – definite food for thought.
Delighted to see me at the end of the day! After that shaky start, she'd had a good day. She'd enjoyed music and PE.
Here's an action shot of her playing football with T, note that her headphones are on – she LOVES them!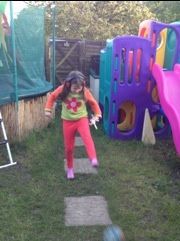 Later on, she sang her songs that they're practising for the School Proms – "the lion sleeps tonight" and "hey, Mr Miller" – I taught her how to do "jazz hands" to the second one, which she found very funny and told me I was silly!
She's still wearing her headphones now, bless!
So, after a shaky start, she's had a good day. Thanks very much for reading, comments/RTs as ever welcomed Jx 😘
I've hit that 2k following wall on Twitter and need about 70 new follows to catch up, please RT if you've enjoyed reading this post and hopefully I'll be out of "twitter jail" soon, thanks x
---
---