Our day started off well. D had a good sleep last night, whether the weighted blanket is having an effect or the good day at school yesterday (no boy picking on her) – obviously she needed the Melatonin as per usual last night but she was on good form this morning.
When we got to school, she looked at the door, said "I'm scared" and ran off. It took a TA to get her into the classroom.
Whilst she was at school, her ear defenders arrived. Red – as requested -and they fold right into themselves so should be safe in her school bag.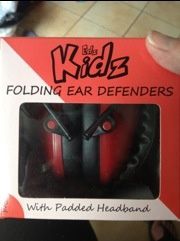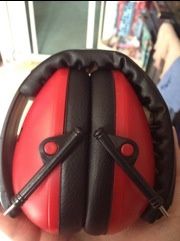 She was really pleased to see me at the end of the day but that joy turned to anger when she found that she had to walk alongside the buggy. Mr O and Mr H were still asleep, normally Mr O would walk with a wrist strap & D would hop in. I knew she wouldn't be happy and she wasn't!
Lots of stamping, stomping and shouting. On a few occasions I gave her bear hugs and gave her my hands to bite to take some of the aggression away. It worked to a certain extent.
Once we were home, I hurried everyone else in and D let it out in the garden! She was okay after that.
She loves her ear defenders and has been wearing them for "peace and quiet", over compensating by talking loudly with them on!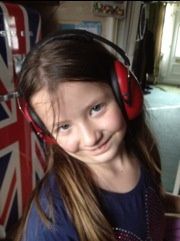 It made me wonder if the pressure from the top strap on the headphones was helping with her sensory issues and if so, whether there are hats/caps that are available? Please let me know if you know.
I managed to persuade her not to wear them to bed!
So, a see-saw type day, one minute up, the next minute crashing down (with a thud – or a bite!)
Thanks for reading, comments/RTs as ever welcomed Jx 😘
---
---