If you went into D's room earlier you'd think it had been snowing. She'd spent a lot of time this evening taking apart polystyrene blocks and making them into "snow". She'd also taken a small ball pump upstairs and was using it to propell the "snow" around her room! I know the weather has been unseasonal but….
She's had a good day today. There was some reluctance about going into class this morning but, once I'd talked with her TA (with D listening) and said that D would be telling her if the boy (who picks on her) called her names, D seemed to relax and went in okay.
I also got Hubbie to write in the home-school diary to say that we were noting down when these incidences occur. My main concern is if D was pushed to an extent that she reacted violently, she is much taller and stronger than this boy and that would not be good. So…we'll have to see.
She came out of school delighted to see me and no incidents with the boy. A note in diary to say they're keeping a close watch – good!
A wet school run and then the polystyrene fun commenced. She's been happy doing it and that's what any parent wants, for their child to be happy.
Comments/RTs as ever welcomed, thanks for reading Jx 😘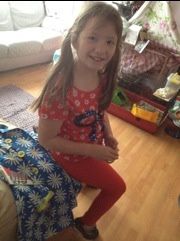 ---
---