A memorable moment today – for all the wrong reasons. D deliberately punched me.
To give some background, it was 5am this morning and she was roaming. I took her back to her room, tucked her in and then as I bent down I could see from her face she wasn't happy and then "bam!", her fist came out.
I went back to my room without a word wondering why that had happened. It was different to when she's lashed out mid-meltdown, this was done very calmly (outwardly) and without a word.
It made me wonder if this will be the first of many. She is already tall and strong for her age. I spend so much time trying to raise awareness for autism and the last few weeks have involved a lot of liaison to get various medical appointments in place, one of which is for her increased meltdowns and temper btw. It made me feel a line had been crossed.
And then another twitter used sent through this … And it pulled me back out of it. Especially the last point: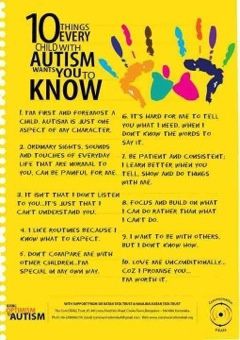 So grateful for that! Duly sent on and RTd by so many people, appreciate every one
D said she was sorry when I gently tried to talk to her about it but she couldn't tell me WHY she'd done it.
The rest of the day was fairly uneventful – some trampoline play, some Wii games and lots of drawing from D.
Hoping for a better night tonight!
Thanks for reading, comments/RTs as ever welcomed Jx
---
---