That positiveness around the weighted blanket evaporated last night – a dreadful night's sleep (or lack of). I was awake from 230am for some reason, D was stirring from 3am and then in with us from 5am – wiggle, wiggle, head butts etc. She agreed to go back to her bed at 6am – all tucked in, and then appeared again 5 minutes later saying she'd had her rest!
Not sure of the reasons for her bad sleep, she had her Melatonin as per, and there weren't any obvious triggers.
As a consequence, a very tired sensitive D today, lots of stomping off, hasn't even wanted to draw today and certainly not posing for a "Light It Up Blue" daily picture.
She was full of negativity at hair wash time "I want to hurt myself, I want to die, I hate school" and then when she was reminded that she wasn't back at school until Wednesday, she was disappointed! Oh, autism!
Hoping for a better night tonight (please). Thanks for reading, comments/RTs as ever welcomed Jx 😘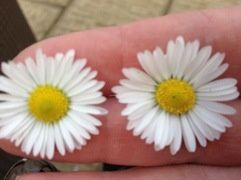 ---
---