A much calmer D today with a quiet (ish) day at home. No school runs, no hustle bustle of people to make her anxious.
She seemed to sleep well with the weighted blanket last night & when I asked her she said that it was a bit heavy but good and could we keep it! One now ordered with a pink cover, which I'll ask MIL if she can customise a bit.
She made a "monster" today, all very delicate, glued onto tissue paper: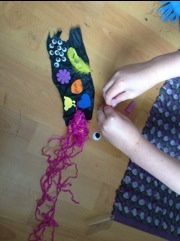 There have been a couple of "episodes" and storming off but they were (relatively) brief and she was able to talk about triggers afterwards.
Like the majority of the UK, the FA Cup Final was on the TV. D mostly ignored it, choosing to continue with her crafts and scrunching tiny bits of tissue paper up. She did decide however that the FA Cup should be gold, not silver and this is her drawing of how it should be: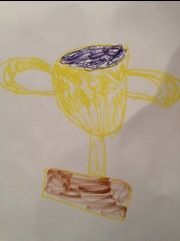 Hope everyone has had a good day, comments/RTs as ever welcomed. Thanks for reading Jx 😘
---
---