D went into school with some reluctance today. They had a trip to a wildlife park and there would be the usual issue of Bunny being left at school. Her TA persuaded her in eventually. Bunny did get left at school.
She was very tired at home time. There had been a couple of things that really scared her, her TA said and it was also noted in the diary so it must have been bad!
We had our usual chat at bathtime and she told me that there had been lots of mice and then beetles behind trapdoors and she got so scared that she bolted. She said that another child did too, he's non-verbal and he came out of school still very distressed with a TA holding each of his arms. Instances like that make me so glad that she can tell me, we always try to keep bathtimes very relaxed and calm and I talk the day through gently with her. So gently in fact, that she fell asleep on me!!
She told me that the boy who calls her names did it again today and I've tried to gently emphasise that she must tell someone at school when it happens as her teacher did not believe me last night. I've got absolutely no reason to believe D would – or could – lie about this.
We're trailing out the weighted blanket tonight. She thought it a bit heavy at first but hopefully it will help. I put it over myself earlier to see what it was like and immediately started yawning! Coincidence I expect!
Tonight's picture is one I posted for "light it up blue" earlier, I like it and again it emphasises the "invisible disability" that is autism.
Comments/RTs as ever welcomed, thanks for reading Jx 😘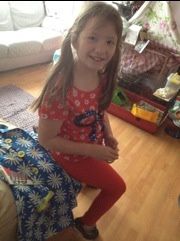 ---
---