1st of May today and Autism Awareness Month is officially over. Of course, for those of us that care for someone on the spectrum or are on the spectrum themselves, awareness is a 24/7, all year round occurrence. Some days are good, some days not so good but all the while, you carry on – you have to.
I thought I'd share what April meant to me:
*World Autism Day saw various autism hashtags trending for much of the day on twitter – which was amazing to see and be part of
*The next day saw a new series called "The Undateables" on Channel 4. I found the title very offensive and as anticipated, the first two programmes produced some very negative comments, focussing on the aspects of the people featured which could be easily mocked. The people that received the more favourable comments were the ones where you could SEE the disability – proving once again that autism awareness or any other invisible disability needs more awareness
*It has definitely been a case of awareness one-by-one for me as proved when someone I had never spoken to before started chatting to me about D and autism and I think she went away more aware than when we started the conversation.
There have been a couple of personal setbacks:
the assured magazine inclusion did not happen – I don't know why but can only assume that Olympic/Jubilee preparations overtook it –
and getting completely caught up in red tape trying to get extra assistance for D which made me realise that understanding and empathy is a long way off in certain quarters.
But… On the whole, April was good – Awareness was raised, even if just one person was educated by every autism parent/carer/individual on the spectrum then surely that is a lot more people more aware than at the start of the month.
The month had a fantastic end with many great blogs being written in response to a post that someone wrote wishing they did not have Aspergers, under the Hashtag #autismpositivity2012.
I thought I'd share this with you today as D went into school well, "had a settled day" according to her diary, came out well and we had a nice evening – I think the fact it wasn't raining helped.
Tonight's picture is D being a tiger!: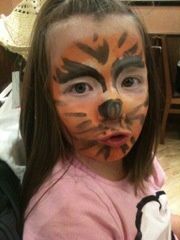 Comments/RTs as ever welcomed – if you have anything you'd like to share on what April meant to you, please do so. Thanks for reading Jx
---
---