We are officially in countdown: three Sundays until D's birthday, she'll be 8 years old – *mutters* about time flying fast and just where have the last few years gone!
Last year's birthday was the first one she really understood and got excited about. There was a comment one year from school that "everyone sang happy birthday but she didn't understand that it was a special day" which really really upset Hubbie and I, so to know that she understands and is starting to get excited about it, is wonderful!
She knows how many candles she needs on her cake and would like a specific M&S cake – one that has chocolate stars on the top as she likes to have the stars!! So, it's all systems go…
The weather has been awful (again) so we've had a nice family day at home. D did a beautiful butterfly drawing of herself as a butterfly (when she has bad dreams about her anxieties sometimes "D the butterfly" comes along and rescues things), this is so lovely it's going to be laminated: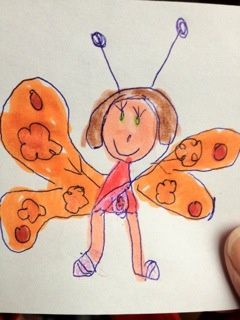 and there was another one, a little girl butterfly: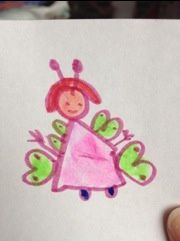 It was nice this afternoon, T wanted to play "Toy Story" darts, they're rubber tipped – very safe – with a textured board. D had a go at throwing them but couldn't get the grip and therefore the aim, she had a few goes and after that was very happy to watch and collect the darts after every go.
There's been a couple of very minor meltdowns today, very short lived.
So, all in all, good day.
Thanks for reading, comments/RTs as ever welcomed. I had a peek
at my monthly blog stats and we're nearly on 4000 for April which is amazing – thank you Jx 😘😘
---
---