I'm writing this with my head still sore from where D pulled my hair tonight. She got cross because we'd been playing songs from my phone, her one finished and another one came on. Bam! This little hand came from next to me and pulled my hair hard. Then she shot away, up to her room and had a meltdown.
Of course I know the trigger – the song – but not sure whether the subsequent meltdown was caused still by the song or the realisation of what she'd done. She also found time to write a note saying "no mum" and stuck that on her door. An "honour" that is normally reserved for her dad and T when a "no boys" sign gets put up! Eventually calm enough to start the bedtime routine but the violence-bolt-meltdown wasn't a great combo.
Aside from that, we've had a nice day. She finished off her drawing for the TA who got injured yesterday: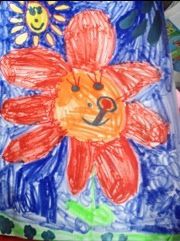 This is a flower with a thermometer in its mouth because it's poorly and the sun is going to look after it – all her own idea.
Both T & D wanted this book read tonight, even though they're both very capable of reading it, they wanted the gross voices and sound effects that a story like this merits!: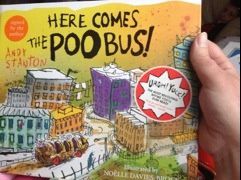 It's a book that you read thinking "urgh" but it's that bodily function talk that children always giggle about.
Hair pulling and meltdown aside, it was nice to have my D back today, the one who's not filled with anxieties.
Hope everyone has had a good day, comments/RTs as ever welcomed, thanks for reading Jx 😘
---
---