This title is borrowed from the motif on one of D's t-shirts.
Music plays a big part in my life, always has done.
From my teenage years spent taping the Top 40 on Sunday nights, editing out the DJs monologue and the
weekly ritual of TOTP, waiting to see your favourite group – albeit miming – secretly wanting to be in the audience but knowing that the waiting list for tickets was YEARS long!
The school discos, the song you have your first "snog" to, the song that will always remind you of your first relationship break-up.
I was too young to see my favourite group when they were "big" and by the time I was old enough, they'd disbanded *sob* so when they reunited for concerts a couple of years ago, it was a dream come true. We took D (with sound proof headphones!) and because it was the music that she was used to hearing in the house, she was fine. We had seats in the front row so she spent a lot of time drawing!
The children have grown up to enjoy music as much as I do and music lessons play a big part in D's school – see my blog post "here comes the sun" and T is learning the trumpet – we have strange noises whilst he practices sometimes. I always wanted to learn the saxophone – maybe one day…
The past couple of weeks have been very hard, trying to sort out the referral fiasco, acting as a go-between between GP and paediatric department when all someone had to do what take ownership and do their job!
I hadn't been sleeping and was throwing up with the anxiety of it all. I did consider going to the doctor for myself and all they would have said is rest and reduce stress, bet you. Practically impossible to do when you are a SN parent.
The one thing I did find helpful was music. I've always got my ear worms in en route to pick up D and I found myself listening to the lyrics more and empathising more. I guess the songwriters draw on their own experiences of life, relationships, family etc. It helped.
Hopefully we have now turned a corner in terms of starting to get the additional support that D needs and for me, as long as I've got my music and a full battery, I'm okay. Well, more than okay because the group are releasing a new – brand new – album in May and the first song from it is "Brilliant" – and that's what it's called too.
Thanks for reading, comments/RTs as ever welcomed Jx 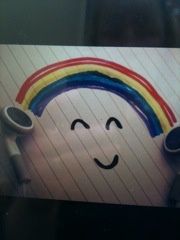 ---
---