I found something out today…D's school have someone there who are able to do referrals to CAMHS so this begs the question WHY did her teacher not speak to this person in January?
She's a lovely lady this person, full of helpful sensory advice and she's going to lend us a weighted blanket to have a trial with and book D in for some sensory sessions at school. She is also going to speak to D's teacher to find out why it wasn't suggested that I liaise with her in January. We have a parents evening next week, which is shaping up to be fun!
D didn't have a terribly good day at school, the boy who picks on her was back and she saved all her negative emotion up for when she came out & saw me – cue a bolt. One of her TAs also got whacked in the face by a racquet today by another child during PE and had to go to hospital. That must have been horrible to say the least! D wanted to draw a "get well" picture for her at home, which she did. We'll laminate it for her too.
Once D was calm, we've had a nice evening. A bit of a lol moment earlier when she told me that Hubbie & T were watching "Funky Towels" – she meant Fawlty Towers! Again there's a line between laughing with and laughing at, this was a laughing with moment!
I did a blog about music earlier, please take a look if you haven't already, thanks.
And thank you if you're reading this one. Comments/RTs as ever welcomed Jx 😘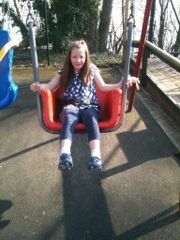 ---
---