Four days left in April. Autism Awareness Month. Of course, those of us living with Autism are aware – nothing will change for us on 1st May. Life goes on as normal (routines etc). April has been about reaching those who aren't aware – but as I've said before "how?" It's establishing a collective voice and making that voice heard. Thoughts and pondering..
On with our day anyway…
D has a different teacher Thursdays & Fridays, with that knowledge and the aid of a new app on the iPad (Real Chalk HD), she went in very well. Here is the picture she drew on the way: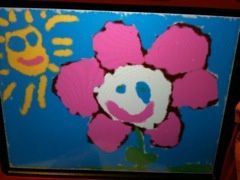 It's a lovely picture and her TA wants a copy of it too. The iPad or "Mr Paddie" has really helped on the (double school runs) – see my post "Fun on the school run".
D happily in, I spoke to the teacher of the boy that hit her yesterday. Her reaction was that as it wasn't on school property (it was just outside the door, as he went past her, 3 deliberate hits), it was the responsibility of the transport escort. She did admit that the boy does hit within school though. I'm not expecting too much, just to be able to reassure my child that I've expressed my concerns to someone.
She came out well at the end of the day and as it wasn't raining (hurrah!), she had an ice-cream from the van. She really enjoyed it!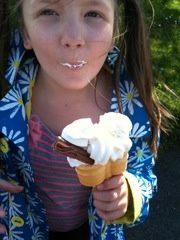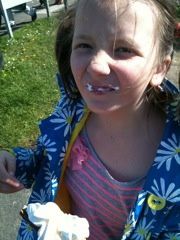 Unfortunately arguments over the trampoline resulted in T getting scratched and a meltdown. As I can't be in two places at once, I comforted T first (quickly!) and then saw to D.
She was calm by evening routine commenced. Every bath this week has involved playmobil animals being put up my nose, wears you down when you're already tired.
So, a mostly good day (apart from
T getting injured & the meltdown), thanks for reading. Comments/RTs as ever welcomed Jx 
---
---