25th? Autism awareness month is flying by… I felt a bit despondent yesterday thinking "am I doing enough, what more can I do?" but because autism is an invisible disability it's almost "baby steps" and awareness one-by-one. More of that later…
D went in well, after some reluctance again. Her class had an assembly today on St George's Day and she had a part to play. Lots of "I don't want to do it, I'll just watch with Bunny" but she got there, her teacher was very enthusiastic and in she went.
Her prescription finally turned up at the hospital pharmacy – yay! – after 5 days in the internal mail (it's literally 50 yards away department to department). A nice lady in the pharmacy took ownership of tracking it down and liaising with the department. Which is what I wanted! I've had three separate phone calls this afternoon to say it's all ready to be collected – I must now have a bit of a reputation!
So… Now that her referral and meds have been sorted out, I'm feeling much happier. I'm going to alert PALs as to what's been going on though, the paediatric department has shown no empathy or desire to take ownership for D, she was "discharged" due to lack of resources and left in limbo, it shouldn't be happening. SN parents need to know that there is someone they can turn to with medical problems, resource issues or not. *gets down off soapbox* Rant over.
D was coming out of school this pm, she was late so there were pupils and school bus escorts around. One boy went past and hit her three times. The escort didn't seem to notice and D didn't want to go back into school to talk to his teacher so I'll do that after drop-off tomorrow morning. She wasn't happy all the way home and more unhappy once we got home, saving it up!
She was calm by evening routines so hopefully she'll sleep okay and a new day tomorrow.
The one-by-one awareness earlier…a lady at the bus stop started chatting to me, she recognised me from the "turn the music down" article in the local paper and said that she agreed etc. I explained a bit about autism and then the bus came so that's one person who took the time to read and be interested enough to mention it. Baby steps…
Tonight's photo is self-explanatory.
Comments/RTs as ever welcomed, thanks for reading Jx 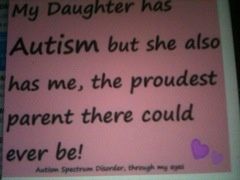 ---
---