D was a bit reluctant about going to school today but the chilly school run had her almost rushing into the classroom. She blamed me for being cold so there was no goodbye hug, nothing! Thanks D! At least she was in, I guess.
Whilst she was at school, I had a message to go in and sign her CAMHS referral form – finally! I have asked that the missing 3 months are taken into account on any covering letter that the GP does. So…one positive out of the past two weeks.
The missing prescription has still not been found and the department could not be more unhelpful tbh. It's been over two weeks since I first requested D's repeat prescription – one missing message and one missing prescription later. When I contacted them today for an update and to say D's meds are running low, I got told I shouldn't leave it til the last minute – blooming cheek!
For a paediatric department dealing with SN children and parents, their lack of empathy is quite shocking. See what tomorrow brings…an answer I hope.
D came out of school well, she had made English biscuits (?) today for a St George's day assembly later on in the week. They're also going to be watching morris dancing.
She was absolutely fine and happy at home until Bunny got pen on it and needed a wash. Cue 30 minutes of wailing in her room during the wash cycle. Once Bunny washed and hair-dried, happy D returned.
Tonight's picture is a note she did at school and was very keen to show me: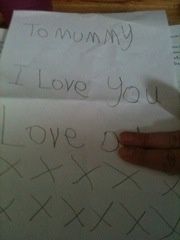 So an up and down day but at least it's ended okay.
Comments/RTs as ever welcomed. Thanks for reading Jx 
---
---