St George's Day! Here is guinea pig George, we didn't give him a card – he'd have eaten it!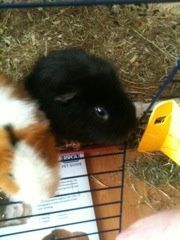 D didn't go in well to school this morning, lots of anxieties around leaving Bunny in the pigeonhole and the child who picks on her. Took her teacher plus a TA to get her into the classroom.
She came out of school in much the same vein – very solemn, very pale. She didn't say much on the way home and had a MASSIVE meltdown as soon as we got home – guess she saved it up. Fortunately T got out of the way quickly, she was very cuddly afterwards.
I tried to talk to her at bathtime about her day and D's answer was to shout (a lot) that the work was too hard and she didn't want to go to school anymore. When I said that I'd be in trouble and that her teacher would be knocking on the door to tell me off if she didn't go in, D said "well, don't answer it then!" (logic for you)
The grump continued all through the rest of bathtime and the rest of the evening routine. Cuddles and make-up before sleep time though (thank goodness for Melatonin).
If you haven't seen it, please take a look at my earlier post today, entitled "Injustice…".
Comments/RTs as ever welcomed, thanks for reading Jx 
---
---