This post will make you smile – promise. It's a positive post, a "wow, I never ever thought I'd see this" moment.
If you've read my previous post "D and mainstream did not mix", you will know that D was not able at all to go into the main hall at school due to her anxieties. I never saw her participate in an assembly or school play, it was too much for her. We'd have the costume, practice at home and then on the day, anxieties took over. She was word perfect on all the songs at home!
Anyway…enough doom and gloom. D has been at her SN school for just over two years – we moved her as soon as we could after the statement came through – and, on the whole is very happy there.
Every May/June, D's SN school has a "Proms Week" and each class performs for the school, the parents are invited to the relevant performances too. The first year I attended there were some teenagers showcasing their drumming skills. You could tell how anxious some of them were and they were coaxed onto the stage, but once the music started they were "in the zone" and they performed. Once they had finished, they almost ran off the stage with relief. I had nothing but admiration for the way they overcame their fears and performed in front of a hall full of people – a task that would be nerve-racking for anyone, let's be honest!
D and her class sang "Here comes the Sun" – in the hall, a packed school hall.
The moment when D stood up and sang is up there in terms of pride with when she first wrote her name and read from a book. Never to be forgotten. I watched & taped it through a mixture of smiles and tears of happiness.
To see my D go from a frightened anxiety-ridden child to singing in front of people was amazing. Of course, I know that it's familiar surroundings and a lot of coaxing and externally we have many many anxieties and issues to overcome but… I was so proud of her whole class.
Incidentally "Here comes the Sun" is one of her favourite songs, we must have watched it ten times in a row on YouTube this morning!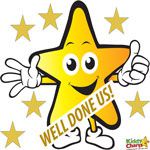 Comments/RTs as ever welcomed, thanks for reading Jx 
---
---