My "Cornish" daughter was still in evidence today – this one may run and run. She laughs with us about it and to hear a nearly 8-year old answer everything with "…my lover" in a broad accent is funny.
Making sure she doesn't do it outside the house though and she seems to be saving it solely for Hubbie & I, phew!
We had a typical D conversation this morning:
D: "Mumma, please change the TV to my favourite channel"
Me: "which one is that?"
D: "you choose.."
Fortunately I chose the right one!!
I had a mountain of paperwork to do this afternoon and she was happily in the same room with me, fixated on her Playmobil animals. She's always liked little things like these and the Playmobil people to carry around and hold.
She seemed quite happy doing this until I noticed that she'd moved all the toys into a little pile and was walking around them, face blank, just walking around. She didn't respond to my voice but she did to a bear hug and a cuddle.
My cue to have a break! She used to do this a couple of years ago and I presume it's another "coping strategy". I guess she's so used to me constantly being interactive with her, that this wasn't the norm. Note to self, do paperwork when she's at school!
That aside, we've had a nice day. She has decided to take a Playmobile giraffe, elephant and teeny tiny mouse to bed with her – as well as Bunny – so it may be fun in the early hours if one gets "lost".
I'm going to do my happy, positive "music" blog tomorrow – ran out of time today.
Tonight's picture is my favourite of D: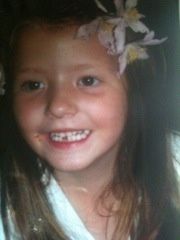 it's a year or so old, but I love it!
Comments/RTs as ever welcomed, hope you've had a good day, thanks for reading Jx 
---
---