D had a meltdown before school today, she kept hitting herself with her water bottle and T got out of the way just in time, not the best way to start a morning.
After talking with D last night (well, it was quite one-sided) about the boy who'd been picking on her – it continued at the SN Playground yesterday – I wrote a note in her home-school diary asking that he sit nowhere near her and had a chat to her (more approachable) Thursday and Friday teacher today about the situation. She will keep an eye on things but I'm also going to formally request that D is not in a class with the bullying child from September. Enough is enough! I have asked D why she doesn't tell him to stop it but she's worried about being told off. There are two parallel classes so I can't see that being a problem.
Re CAMHS referral fiasco: D's GP phoned virtually as soon as I was out of D's school. She hadn't received the fax sent on Monday (!) and has asked that I take a copy to the surgery on Monday! We had a brief conversation and I think she took on board the fact that three months have been wasted and that D's anxieties and meltdowns are NOT caused by shyness as the silly missing letter suggests. We'll talk again once she's had the letter.
D enjoyed her day (bullying child was watched closely) but as she was coming out of school with her TA, the transport escorts were surging in and that is one of her anxieties – people being too close – she collapsed to the floor – football diver style – and it took a while to persuade her that it was okay and she was safe.
She was a lot more relaxed when we (finally) got home. Some more of her "My Animal Farm" subscription had arrived so that prompted some more Cornish D time!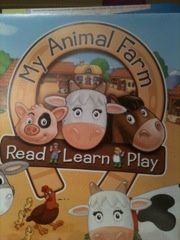 All quite relieved it's the weekend after what has been a long & stressful week.
Thanks for reading, comments/RTs as ever welcomed Jx 
---
---