Today it's been like we've been visited by a mini Dawn French! Ever since D got up, she has been adding "…my lover" in a Cornish accent onto everything! For example, "would you like toast or cereal for breakfast?" answer "cereal, my lover"!
I could not work out where this had come from. She normally copies the voices from "Toy Story" or "Monsters v Aliens" (echolalia) so this was definitely a new one! Eventually she told me that it was a farmer character from "Olive the Ostrich" – mystery solved!
She had her trip to the SN adventure playground today. Anxieties when we arrived at school over whether Bunny would be allowed to go (they compromised and Bunny travelled but stayed on the school bus) and also the child who picks on her was hovering at the entrance to the classroom, so it took me plus a TA to get her in.
She enjoyed her time at the SN playground despite the weather.
We've had a nice bathtime tonight – accompanied by a leopard from a kinder surprise egg, as you do!
I decided we'd have some music that she listens to in music at school so we had "firework" by Katy Perry and "here comes the sun".
I'd wondered why they listened to "firework" and after hearing this a few (more than a few!) times tonight, I know now. The lyrics are very upbeat, very positive, very be yourself. If I could work out how to add a video, I'd post a link!
"Here comes the sun" is a definite favourite of D's and that is going to be a blog post – a very positive one!
Bathtime conversations of course had a Cornish twist to them, she was finding it as funny as I was! There's a line between laughing with someone and laughing at them and we are careful not to cross that with D.
So…anxieties at school aside, it's been a good day for D, hope you've had a good one too.
Tonight's picture is a mini paperweight we have, I like the sentiment on it. It was going to be my avi until D did the painting: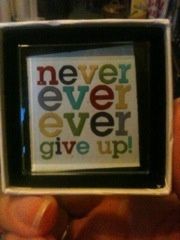 Comments/RTs as ever welcomed, thanks for reading Jx 
---
---