D went in with persuasion from a TA to her class today, she was nervous about going swimming with her class this afternoon because she thought the pool might be dirty!
They are very lucky at her school, they have a hydrotherapy (I nearly wrote hypnotherapy lol) pool, it does have a tendency to overheat but they – temperature controls permitting – go once a week.
Whilst she was at school, the copy of the "missing" letter arrived, it's as below but the general jist is "buy and read a couple of books":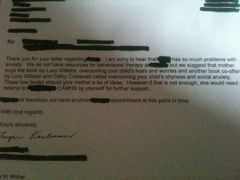 So…the next time D is having a meltdown and threatening to hurt herself, I say "oh, that's because she's shy then, according to the book" – which incidentally is "currently unavailable" – mutter, mutter, mutter. Honestly!!
Rant over..D came out of school slightly worried as her class are going to a SN adventure playground and there will be the Bunny issue again. Twice in one week!
This anxiety stayed with her during the evening, causing her to lash out physically at T, poor chap.
It was during bathtime, whilst she was trying to shove a playmobil snake up my nose (yes really) that she remembered she has a different teacher tomorrow and Friday, one who let Bunny go with her on a previous trip – oh happy days!!
So..hopefully all will be well tomorrow and she'll be able to enjoy her trip, with her Bunny. Hope it's not so rainy either.
Tonight's picture was taken at the SN playground, a few weeks ago, I think she'll have a good time: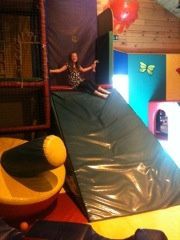 Comments/RTs as ever welcomed, thanks for reading Jx 
---
---