Well… despite all D's anxieties over the weekend about school recommencing today, we saw a hot-air balloon on the way to school and "chased" it to school! That proved a very nice distraction and she bounced into class to tell the TAs about it. Shame it's not there every day!
T doesn't go back until tomorrow and it was really nice to have some 1:1 time with him – that doesn't happen often. He's a cheeky monkey with a huge heart. Very protective of his little sister and Mumma.
If you've read my earlier blog post today, you'll know that this afternoon was not good. I still feel very failed by the "system" but it's now mixed with frustration and determination to get a result. It is also very clear that if her Dad and I don't stand up for what we believe is the best course of action for D, no-one else will. *gets down off soapbox*
D was delighted to see T and I at the end of the school day, I could hear her saying "Mumma" from the other side of the school doors, cute!
She was a bit up and down at home, tired I think after her first day back.
They have a school trip tomorrow, I hope she'll be allowed to take Bunny (fingers crossed). I'll be trying to sort out this NHS fiasco in the meantime.
Tonight's picture is T & D cos it makes me smile: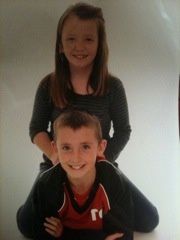 Thanks for the comments on my earlier blog, they really helped xx Comments/RTs welcomed on this one too Jx 
---
---