Well, despite D saying every day to me during the week that she misses school, she has spent today realising that she goes back to school on Monday and saying that she doesn't want to go back. Oh, the predictable unpredictability of it all!
Especially as Mondays bring a fire alarm test at school – which she hates (sensory overload). I have spoken to the school about her wearing ear defenders for this and ordered some red ones (her favourite colour) but they haven't arrived yet so…Monday morning has the potential to be fun (not)!
But as I have said before, I am very grateful that she can tell me about her anxieties. I have so much admiration and respect for those with a non-verbal child/adult to care for.
D's virtually constant moaning about school aside, it hasn't been too bad a day. She is completely and utterly into "Angry Birds Space" at the moment so was overjoyed when this came in the post today: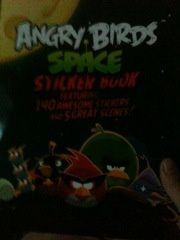 Lots of spare stickers which will find their way onto pictures in the next few days.
I hope that she will relax a bit more tomorrow about returning to school.
Thanks for reading, comments/RTs as ever welcomed Jx 
---