Was there ever a more appropriate date for a funeral? In Swindon? That is where my Hubbie went today. It was his elderly aunt's and he attended with his mum & dad. We discussed it and felt it best T and D (and therefore I didn't attend).
So..we had a trip to town instead. D behaved very well on the bus in and "tolerated" a couple of shops before lunch. McDonalds was full of children with their families, screaming, balloons being popped, children climbing all over the chairs. We found a secluded booth and had our lunch. As a "reward" for a good week, T and D both got to choose something in the Disney Store, this is what D chose: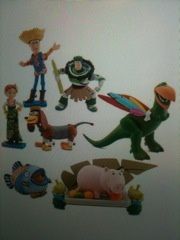 Toy Story Vacation toys. Aside from Bunny (who naturally came with us), she is definitely not a girlie-girl, far more into dinosaurs and Toy Story, with an added sprinkle of The Gruffalo and Ben & Holly.
D helped me lay some garden slabs for our stone star circle when we got back, remarking how strong she was (she is!).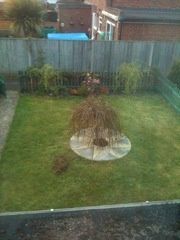 I have noticed that she seems to have more and more eczema-type markings on her skin, I wish her paediatric appointment would hurry up, what with asking about anxiety meds, dsypraxia and now this, it may be a long one!
Comments/RTs as ever welcomed, thanks for reading Jx 
---
---