A very up-and-down day…
We had to wait in all day yesterday and today for a delivery – that never arrived. D prefers being at home anyway but it was still frustrating.
Poor D, Bunny was due for a wash and D agreed to it, but as soon as Bunny got put in the washing machine, she (D, not Bunny) started wailing, tears streaming down her face. This went on intermittently for the whole 90 minute wash cycle. I showed her the timer in the machine and we set the timer on my phone too so she could see how long was left, it was too long though. She spent most of the time looking through the machine door, crying.
Goodness knows how she manages at school when they go on trips and the teacher refuses to let Bunny go too. No wonder D comes out looking upset at the end of those days! Anyway, once Bunny was dry, happy D returned until…
Bathtime and Bunny was being propped up on the windowsill and got her ears wet in the sink! Distressed D, Bunny has had her ears wrapped up so that she can be with D tonight.
In between times, she (D, not Bunny) did do a couple of lovely drawings of "what makes me smile" – like the segments on Nick Junior:
This is D: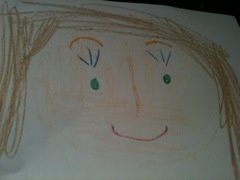 and this is Bunny: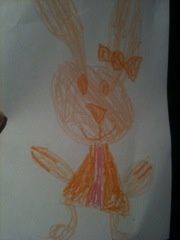 You're probably thinking I should get a duplicate Bunny and I have tried – discontinued a few years back. Have tried alternatives but they don't fit the bill!
Anyway…..and breathe! Tomorrow is another day!
Thanks for reading, comments/RTs as ever welcomed Jx 
---
---