D said she was missing school today and that she missed her friend there, a boy who she sat next to in class last year. I know she's missing the routine of school and I also know she'll be a terror to physically get through the classroom door next Monday! The predictable unpredictability – if you know what I mean!
We had to do a "food shop" today, something that none of us enjoys. I tried to time it for after lunch when hopefully the majority of NT families etc would have already been out and, unlike last week, it worked 
Circumstances were relaxed enough for D & T to have a play on the outdoor equipment at the shops: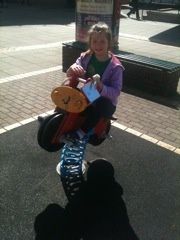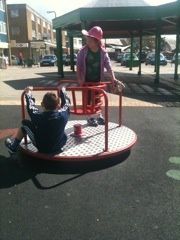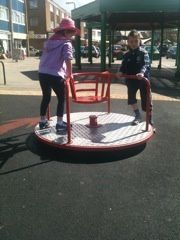 If you look carefully, you'll be able to see "Bunny" (her faithful companion) in the shots.
We met a girl from D's school up there, she has Downs and was with her dad, like us they seemed to have picked the right time to be up there.
We had to get T's feet measured for school shoes and even though he's 18 months older than D, her feet are a full size bigger!
We discovered a good game for energetic boys – but don't do this anywhere near roads – let the wind take a balloon away and someone chase after it. Lots of clowning around by T. D was cackling away, watching him.
They resumed their squabblesome ways on the trampoline though. So much so, that it's now one at a time, with the giant ten minute sand timer as a visual aid.
So, a mostly good day. Have a read of my little poem I also did today, if you haven't seen it.
Thanks for reading, comments/RTs as ever welcomed Jx 
---
---