My birthday…started off well, with lovely written cards by T and D and cards & gifts from others. "Happy birthday" sung by the family and then poor D got a bit confused and sang it to Hubbie – cue a meltdown or two.
We eventually made it to town and joined in the Easter egg hunt in Cath Kidston, we were the only ones looking so a lovely shop assistant gave D a massive clue "look in …" and she found the egg symbol. Her prize was some little mini eggs, she chose the white ones, she only likes those.
Lunch beckoned and the restaurant we usually went to and D was familiar with had closed down (obviously didn't go there enough!), had to spend some time analysing menus/amount of customers etc. We found one where D could have her fish & chips, asked for a secluded booth to prevent bolts etc as it was an unfamiliar place and flaps and stares aside, all went well.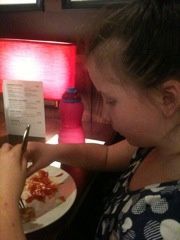 D and I had a bit of "girlie shopping time" after lunch whilst the men went off and did "men" stuff, it lasted about 5 minutes but we had fun trying on sunnies. These were so expensive, I was petrified she'd drop them!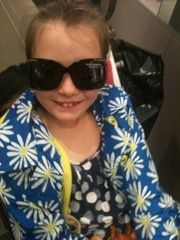 We had a moment when she tried to bolt out of the shop and into the very busy area. She didn't appreciate being caught and told that we didn't want to lose her etc. Strops and sulks all the way home.
I did a mini blog post when we got back, something I wish NT parents could read.
It ended well though, this was her "joke" tonight:
Knock knock
Who's there?
You
You who?
You're the best Mumma in the world. Awww…
So, an up and down day but that's the way with autism. Thanks for reading, comments/RTs as ever welcomed Jx 
---
---