Good Friday or hot cross bun day. I was amazed to see "hot cross buns" trending this morning and, even more after reading that some people didn't know why they had hot cross buns today.
D doesn't like (or refuses to try) hot cross buns, there are so many things in there that are a definite no-no to her BUT she did do a hot cross bun drawing today for me, on a purple plate: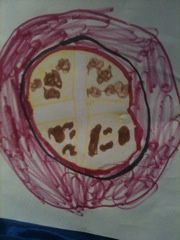 I love her drawings, they're always so detailed and the process is such a relaxant for her, as well as an expression of her feelings. It's very rare for her to draw a person not smiling and if she does, it normally because she's illustrating a bad dream.
She helped me paint the pesky garden trellis this afternoon, all six of them. Very slow, deliberate painting. Appreciated her help!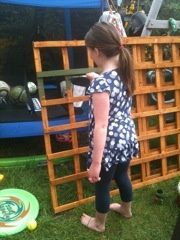 We both ended up with green spots on our feet, arms and faces but she took it well.
She's done well today, hope everyone else has had a good day. Comments/RTs as ever welcomed, thanks for reading Jx 
---
---