I did a blog post earlier today on "Autism & pets", would really love to hear any comments if you have a dog in your family, how it interacts with the child etc.
Anyway…on with our day.
D spent most of the morning (hours and hours) making these little ball shapes from foam packing material.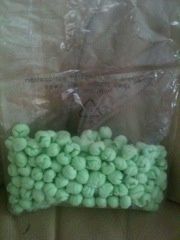 This was taken about half way point. She was very happy doing it, and very absorbed in it too. That OCD element I guess. Managed to persuade her to leave them all in a box downstairs at bedtime!
She's also very interested in the Easter story this year. She knows the sequence of events and that tomorrow is Good Friday. She decided this afternoon that we should all have crosses to commemorate this. These are mine: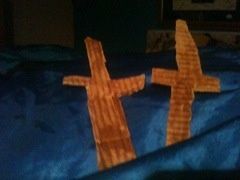 All cut out and coloured by D. She did try to put one in the guinea pig cage for them but they tried to eat it – little heathens!
A few squabbles and "moments" every time T and D were on the trampoline together, it is probably at the point where they go on separately – maybe with the aid of a time tracker to say when their turn is up – or not at all.
All in all, not too bad.
Comments/RTs as ever welcomed. Thanks for reading Jx 
---
---