I'm not an expert at all on autism, just a Mumma, but I wanted to share our experience of pets. This is a (very) late response to a blog posted a couple of weeks ago by another autism parent.
Growing up, my sisters and I weren't allowed pets after a cat ran away on moving day. We all have (or had) cats now.
In our house, we have two tortoise-shell tabby cat sisters and three guinea pig brothers. I would like another pet too but we'll come to that later.
Here are the cats: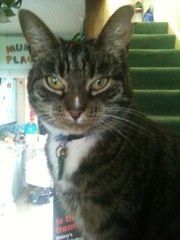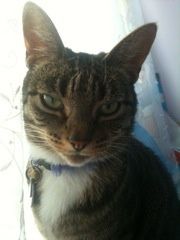 The first cat is a lot friendlier than the second. D adores her and finds it really funny when the cat wraps herself around her legs, purring away. The cats follow us to a certain distance on the school run and will then suddenly appear from under a hedge or similar at the end of the day, miaowing away and then follow us home.
D doesn't get involved in the feeding process for the cats but she does like the cuddliness and the petting aspect. She won't tolerate either of them in her bedroom though – very much off limits.
The guinea pig brothers are in a massive cage in our lounge, it's not quite warm enough for them to be outside yet.
D watches when they are cleaned out, won't hold any of them herself – they're very wriggly – but with stroke them if someone else is holding one.
She is very good at filling up their food bowl with their "nuggets" upon request – if she's in the right mood – and what she especially enjoys is filling their hay tray up. A slow process which almost involves her taking each bit of hay separately from the bale. A lot of concentration involved and the piggies appreciate it and tuck in instantly!
With the cats, it's that touch sensory element. That's to a much lesser extent with the piggies, the enjoyment with them is much more visual for her.
She does enjoy watching fish in tanks when we see them, not something I'd consider for home though at the moment.
What I would like, at some point, though is a boxer dog. There is one at the stables where D has her SN riding lessons and it's a lovely, gentle dog. Very tolerant of the horses and the children. It would be nice to have a pet that's a companion for D. Cats are very good at sitting next to somebody – on their terms!
We'll see…
Comments/RTs as ever welcomed. Thanks for reading Jx 
---
---