D bounced in this morning, looked at me and said "Oh Mumma, you're not well, we'll do all the work today". Goodie, I thought…5 more minutes…she then said "I'll go downstairs and wait for you to serve me breakfast". Serve?!! It was a laugh amidst coughing moment, bless her.
I discovered the heating wasn't working yesterday evening, reported it and told them it could wait until today, just as well…
D had an excited bouncing and flapping session when the AA man (yes, an AA man!) arrived. He had a quick check of the boiler etc and then wanted to check the tank, which is in an airing cupboard in D's room. Mega meltdown ensued because she thought he was going to take her toys and that she wouldn't be able to sleep in there tonight. Fun dealing with that knowing that a complete stranger was in the house. He left a bit more educated about autism than when he arrived.
Still, toasty toes now and there is a saying "awareness one by one!"
She had a good day apart from that.
The article on D and autism in the local paper appeared today. I haven't found it online to post so will take a picture of it tomorrow. The journalist included some personal details so I need to blank them out first.
I need to say thank you to @ASDMummy1 – Julie – for sending me tonight's picture, I love it!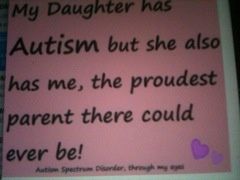 I hope you've had a good day, comments/RTs as ever welcomed. Thanks for reading Jx 
---
---