I never mentioned this before but when Hubbie found out about World Autism Day, he expected something along the lines of Sports Relief ie. An evening or a large proportion of TV time dedicated to the subject and raising awareness…
And wouldn't that have been nice.
We had to go out today and do a food shop. I choose the afternoon as historically it's a quieter time up at the shops. Big mistake.
Two children went past D (in her SN buggy) and said "oh look, she's a baby". The mother did not correct them or make eye contact with me at all so I just replied (or squeaked, still not much voice) "she is NOT a baby, she has autism". No apology from them, no smile, no wanting to know more.
Next shop, children looking, pointing, whispering. Again, no intervention from the parents.
We went into Costa, got a nice, quiet table and I decided I would ask T and D how they felt about the "baby" comment. D said she felt cross. T said it upset him. I don't think D notices the stares, the whispers, the pointing. She is normally zoned out with the little toys that she's brought with her but she obviously heard the "baby" comment.
Made me sad, there is such a long way to go for awareness and acceptance.
I did a previous blog "Does this buggy cause offence?" which is on here. Nothing has changed since then.
We chilled out after that by trying out recliner chairs, very comfortable as you can see!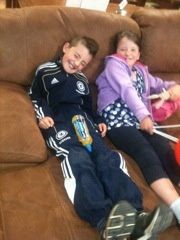 Tomorrow is another day, that's what I say to myself on days like this. You have to.
Comments/RTs etc welcomed. Thanks for reading Jx 
---
---