So…*pats seat on sofa*…how was it for you? World Autism Awareness Day, I mean.
I woke up this morning having lost my voice – T and D had their Mumma squeaking at them like a giant mouse for much of the morning – which has now been replaced by a hacking cough (the joys of looking after under 4's who really should have been having a duvet day with their parents).
So, our planned wearing NAS t-shirts and rattling collection tins didn't happen, "here's a leaflet and have some germs" wasn't going to work. We have loads of leaflets and plenty of time. We did all wear blue though, as planned.
Autism is still going to be here in our family tomorrow and for ever.
It's constant awareness for us and every other special needs family.
It's reaching out and educating those who are quick to judge, to stare and to comment – they're who need awareness.
World Autism Awareness Day was trending by lunchtime – brilliant – and stayed there for the afternoon. There were a few "I've got autism *twitch twitch*" type tweets and spammers…so many spammers, but look beyond that and there are people sharing their stories, their pictures, their lives. I've met some lovely new people today.
I've posted this picture before but my D is the reason I'm on here, sharing our experiences. She may have autism but I wouldn't have her any other way.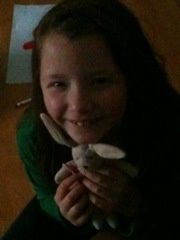 Comments/RTs as ever welcomed, I hope you've all had a good day Jx 
---
---