With thanks to Billy Joel (I think) for the title..
Sometimes I like to window shop. I'm sure we all do it, check out things we can't afford…that "ooh, wouldn't that be nice for.." and then you remember the gas bill, council tax etc and walk away.
I was in Monsoon yesterday and saw a girl's dress in a very similar style to one I already have. Long, pink, crepe fabric with beading etc and for just a micro-second I considered buying it for D, common-sense prevailed and I didn't.
I can tell you the last time she wore a dress – November 3rd, at a wedding blessing. The one she was too nervous to attend. The one where every time she sat down, there were feet everywhere and I spent most of my time covering her back up (my blog post "She remembers the breakfast").
I'm never going to have a daughter who wears Princess outfits (like this one):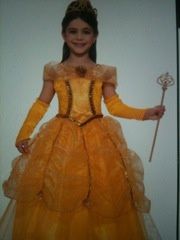 those materials irritate her skin, same as wool "too itchy" apparently.
She has problems with buttons and fastenings too. She has not got the dexterity to do up or undo them. Zips are okay if someone has already done the bottom bit.
So D lives in leggings, t-shirts and long-sleeved tshirts. Nice stretchy fabrics that don't scratch or itch and enable her some personal care privacy. Fortunately there is not a strict uniform code at her SN school so she wears her usual clothes.
In mainstream, I tried all sorts of uniform connotations but was never happy that she was comfortable.
Summer time is much the same. Leggings that have been worn at the knee get turned into shorts by my MIL.
So, that's my daughter, she's comfortable, her skin is not irritated and she's covered up and that's fine by me.
As ever comments/RTs welcomed. Thanks for reading Jx 
---
---