D went in very very well to school today, best ever. Went over that carpet strip by herself and bounced into the room. Reason being? She wanted to show the TAs a new Bunny toy. Same size as old Bunny, dressed in a tutu. Same name too: Bunny. So now she carries two Bunnies around with her – double the fun! Will get a picture of them when D puts them down!
She unfortunately did not come out in the same happy mood. She had been doing "HARD WORK", this is what I got shouted all the way home. She would not or could not, tell me what the hard work was but it didn't go down well. This is why I wonder sometimes why she's in with children who are nearly two years ago…yes intellectually they might think she can cope, but emotionally…
This unhappy mood continued at home. The slightest thing upsetting her and prompting stomps, shouting and door slamming. T stayed out of her way today.
She calmed down once Mr H and Mr O had gone home and the men had gone to football training, just me and her. I got my D back.
She "helped" me clean out the guinea pigs, I use the word loosely but, in the right mood, she will pass things that are needed etc. Having the pets to focus on definitely calms her – future blog post maybe.
Tonight's bath was accompanied by her tiny baby doll (who she rarely plays with) – here it is being force-fed a french stick!!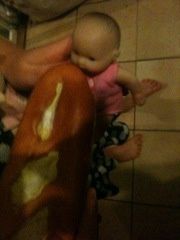 So – all in all – good start, rotten middle, nice end to the day. That's my D, that's autism for you.
I did a post earlier on updates for what I've been doing for World Autism Day, please have a read.
Comments/RTs as ever welcomed, hope your day has gone okay Jx 
---
---