Some reluctance from D going into school this morning but, with the aid of a TA she went in. Very concerned that she would have Bunny with her all day, her security element.
I had a reply from Channel 4 today on the upcoming "The Undateables" programme – it's on the blog post if you'd like a read. My views on this still haven't changed, I find the title and the advertising very offensive and to those people that replied saying that the participants knew exactly what they were doing…really? I do hope they have been prepared both emotionally and psychologically for any public backlash to this programme – good and bad. Seeing this programme being listed in next weeks TV listings really got to me and the timing is really off – day after World Autism Day. I need to shake this mood off and focus on positives. Thanks to everyone who RTd and commented on the updated blog.
D was playing in the playground when I got to her school, delighted to see me and when she came out ten minutes later, it was "Mumma, I saw you, you're here!"
She played with Mr O after school, he seems more tolerant of her now, he's 4.
I had to get Hubbie to take a picture of D and I to send off for something happening around World Autism Day, it took ages as she would not look at camera. End result not ideal but it will have to do.
Hope you've all had a good day, comments/RTs as ever welcomed Jx

Tonight's picture is something D wanted me to buy yesterday, already discarded. That's the fickle finger of Autism for you. It was only £1.99..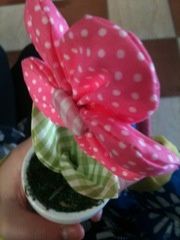 ---
---