Poor D was off school today. Annoying tickly dry cough that we all have, plus a slight temperature (she's prone to convulsions so I always keep her off for that alone) and a skin reaction on arms and face – poor thing!
She was very pleased to be off, with her Mumma.
We dropped T off at school and then popped to the shops. Ideal time as not very busy. She chose this from our local Cargo: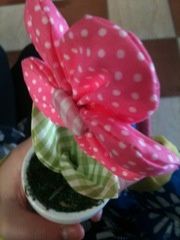 Costa was a different story, very very busy and full of staring people. D spent a lot of the time getting on and off my lap and generally smothering me but did eventually settle with some Angry Birds Space on Mr Paddie: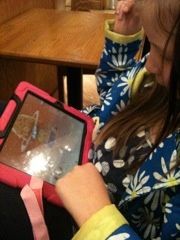 She had to come with me to pick up Mr O from mainstream nursery, I purposefully got there late in the hope that there wouldn't be too many people about. Wrong! They choose today to open the doors late. LOADS of parents waiting. First she wanted to come in, then she got scared and wanted to go back out and be in her sanctuary, her buggy. Lots of stares and as she was making a bit of noise, a few comments too. If I'd thought to put a few leaflets in my bag, I would have handed them out. She's in a special needs buggy for a reason. (good point to refer to my "Does this buggy cause offence?" post on here, I guess.
Anyway….she played well with Mr O, better than I thought she would, to be honest.
After school run to pick up T, D decided she wanted to do some writing. I LOVE it when she writes anything – her name etc. It's usually a mixture of upper and lower but anything like that, wonderful.
She showed Hubbie and I when she'd finished: a whole page with "I love D**** C*****" – obviously her whole name. The phrase "it's all about me" sprung to mind!
Squabbling with T aside, a good evening. Tonight's last picture is an exhausted cat – she's obviously had a very hard day!
Comments/RTs as ever welcome Jx 
---
---